Public Education
CPR CLASSES
We offer comprehensive CPR classes to those who work or reside within the district.
Fire Prevention Week  Oct 4-10, 2020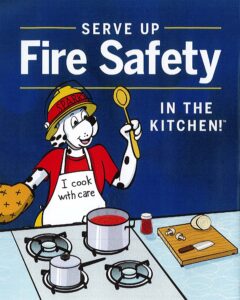 Cooking is the leading cause of home fires and is responsible for nearly half (49 percent) of all reported home fires involving cooking equipment, according to recent research.
Moreover, unattended cooking is the leading cause of home cooking fires.
Home cooking fires occur most often when people are not keeping a close eye on what they are cooking.
The United States has seen a decrease in fire-related deaths in almost every major category except deaths from home cooking fires.
Now, at a time when people continue to avoid restaurants and opt instead to do more cooking and entertaining at home, these circumstances collectively create the potential for an increase in home cooking fires.
"Serve Up Fire Safety in the Kitchen"™
SparkySchoolHouse.org – Escape Plan
SparkySchoolHouse.org – Choose Your Outside Meeting Place
SparkySchoolHouse.org – Fire House Coloring Math
SparkySchoolHouse.org – Kitchen Safety Hidden Pictures
SparkySchoolHouse.org – Sparky Checklist